For the second time, the Rhode Island Senate has approved a bill that would allow dispensaries to provide marijuana to patients qualified under the state's existing medical marijuana law. The bill now heads to the House, where a committee vote was scheduled for Thursday.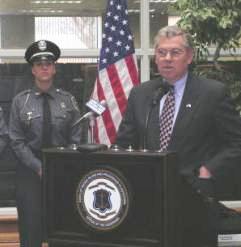 Rhode Island approved a medical marijuana law in 2006, but that law did not provide a legal avenue for patients unable to grow their own medicine or find a caregiver to grow it for them to otherwise procure it. The bill would create "compassion centers" for the distribution of marijuana to people with severe, debilitating illnesses, including cancer, Hepatitis C, and HIV/AIDS.
Some 681 people are already registered with the Rhode Island Department of Health under the state's medical marijuana program.
The Senate approval of the compassion center program came on a 35-2 vote Wednesday. The vote came after bill sponsor Sen. Rhoda Perry (D-Providence) told her colleagues support for the bill was growing and it appeared the state police had dropped their opposition.
The Rhode Island Patient Advocacy Coalition, which has lobbied hard for medical marijuana, praised the Senate for passing the bill. Spokesman Jesse Stout said it would make Rhode Island the second state after New Mexico to authorize nonprofit dispensaries for patients.
The Rhode Island Senate passed a similar bill last year, but it didn't make it through the House. Gov. Donald Carcieri (R) has vetoed medical marijuana bills twice, but was overriden by the legislature. A spokesman for the governor told the Providence Journal he continued to have "serious concerns with how the compassion centers would be set up and regulated."